The first verse of the Bible reads "In the beginning God created the heaven and the earth." (Genesis 1:1)

We live in a world of astounding, immeasurable, seemingly infinite beauty. I've repeatedly experienced what I call "the thrill of the soul" as I enjoy the beauty of the world in various places, times, and seasons. This "thrill of the soul" is what inspires me to paint, as I try to capture some of the beauty and glory I have seen and enjoyed.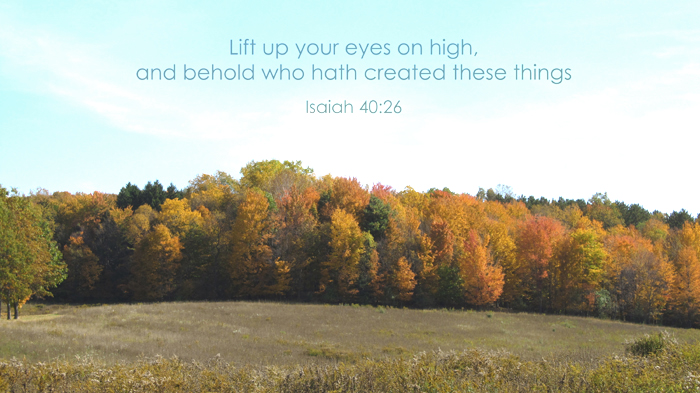 Sprague Brook Autumn glory
Glenwood, NY
Photograph
As we continue to read the Bible, we learn that the Creator GOD who has made all things is further revealed as the Lord Jesus Christ, the Son of GOD. We read of this in a number of verses -

"For by him were all things created, that are in heaven, and that are in earth, visible and invisible, whether they be thrones, or dominions, or principalities, or powers: all things were created by him, and for him: And he is before all things, and by him all things consist." (Colossians 1:16-17, speaking of the Lord Jesus)

"He was in the world, and the world was made by him, and the world knew him not." (John 1:10, speaking of the Lord Jesus)

"God, who at sundry times and in divers manners spake in time past unto the fathers by the prophets, Hath in these last days spoken unto us by his Son, whom he hath appointed heir of all things, by whom also he made the worlds;" (Hebrews 1:1-2)

"Unto me, who am less than the least of all saints, is this grace given, that I should preach among the Gentiles the unsearchable riches of Christ; And to make all men see what is the fellowship of the mystery, which from the beginning of the world hath been hid in God, who created all things by Jesus Christ:" (Ephesians 3:8-9)

"For it became him, for whom are all things, and by whom are all things, in bringing many sons unto glory, to make the captain of their salvation perfect through sufferings." (Hebrews 2:10, speaking of the Lord Jesus)

The purpose of my work as an artist is to magnify the great work of creation and the glorious upholding of all things by the Lord Jesus Christ. I know Him as my Creator, my Savior, and my Lord. Along with the disciple Thomas, I confess He is "...My LORD and my God." (John 20:28)
All verses from the King James Version of the Holy Bible.